It was meant to be Britney Spears's return to showbusiness after months when it looked like she was on the brink of self-destruction.
With a good performance she may even have been able to slow the decline in her record sales and put her personal troubles behind her.
But her appearance at the MTV Video Music Awards in Las Vegas was a shambles, with critics deriding it as 'painful and embarrassing'.
Comeback comedown: Britney's MTV performance proved a huge disappointment for fans and critics


Her miming and dancing was out of time as she shuffled sluggishly round the stage in a sequinned bra and hot pants.

Guests reported she looked "like a zombie", was "unprepared" and "half asleep" in a lazy show-opening performance leagues removed from the energetic routines which first brought her to fame eight years ago.

And music critics and reviewers lined up to give dismal reviews of the show.

One critic called the performance - during which a male backing dancer appeared to struggle under the weight of Miss Spears - "painful and embarrassing".




Paunch me baby one more time: No sign of Britney's former rock-hard abs



Another respected music reviewer wrote: "As in most train wrecks, it was hard to focus on just one thing as the Britney Spears disaster unfolded.

"There was just so much that went wrong. Out-of-synch lip-synching. Lethargic movements that seemed choreographed by a dance instructor for a nursing home. The paunch in place of Spears' once-taut belly.

"At times she just stopped singing altogether, as if even she knew nothing could save her performance."

Yet another wrote: "It was little more than an overhyped burlesque show that went splat."




Paunchy: A sluggish Britney at the MTV show (left). Punchy: A high-energy Britney in 2001 (right)



The star-studded audience at the Las Vegas' Palms Casino also seemed taken aback by the shambolic set.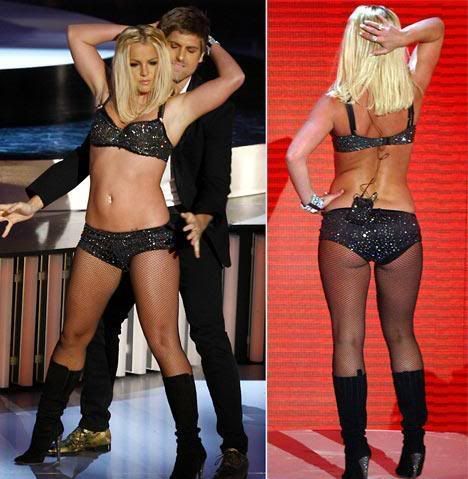 Britney has been described as 'out of shape' by critics



When the cameras panned to rapper P Diddy - who had joined Spears on a two day party bender over the weekend prior to the performance - he had his hand over his mouth in astonishment.

Fellow rap star 50 Cent, who had also been out partying with Miss Spears, simply looked confused by what he was watching.

Miss Spears - who is currently battling for custody of her two children following her divorce from Kevin Federline who is concerned by her "erratic" behaviour around them - had stripped down to a skimpy sequined bra and hot pants for the comeback show.

Yet gone was the honed washboard stomach she was once known for.

Instead she packed quite a paunch and weight also appeared to have gathered around her hips.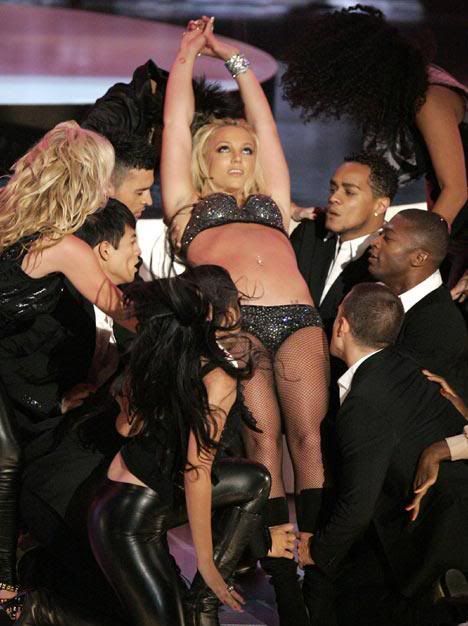 No magic touch: illusionist Criss Angel reportedly helped Britney with elements of the performance, but she clearly needed more smoke and mirrors to pull it off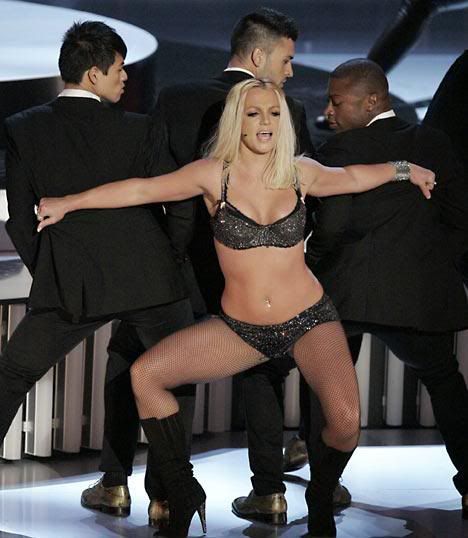 Once famed for her impressive dance skills, Britney left the audience stunned after struggling to keep up with the routine



And she quickly became the butt of cruel jibes - not least by the US comedian Sarah Silverman who was next on stage.

A difficult silence fell after the performance which was only broken by Silverman's pronouncement: "Was that incredible? Britney Spears, everyone. Wow. She is amazing. She is 25-years-old and she's already accomplished everything she's going to accomplish in her life. It's mind blowing."

The mother of two lip-synched her new single Gimme More and even appeared to forget a few of her lines



Britney's effort to wow the audience was described by one critic as 'just plain boring'



Spears's efforts seemed further dwarfed as her former love Justin Timberlake went on to pick up four awards including Male Artists Of The Year.

Spears's performance quickly became the talking point of the night - though it was partially overshadowed by a brawl breaking out in the audience over another platinum blonde, Pamela Anderson.

Anderson's current husband Kid Rock twice punched her ex-husband Tommy Lee after he apparently cosied up a little too close to the former Baywatch actress.

Lee did not help matters by uttering taunts to Kid Rock as he walked past him on his way to introduce the final performance.

Rock reportedly reacted by punched Lee twice in the face before security pulled the two men apart.

Rock - who still had his cigar in his mouth - was held back while Lee was escorted by security straight out of the venue.


Rap producer Rich Nice, who witnessed the fight, said: "Tommy started to antagonise Kid, and then when Tommy stood up Kid hit him first with a backhand.

"Tommy looked like he was trying to aggressively retaliate and then Kid hit him again. Security then grabbed Tommy in a headlock and pulled him off."

Las Vegas Police Department later questioned Rock.

He was not arrested but was issued with a summons for misdemeanour battery and must return to Las Vegas for a future court date.

Too much partying? Britney was out until 3am with P Diddy and Paris the night before the show